1. Preface
Structural Dynamics Toolbox
Product documentation and demos
Information on the use of the SDT html documentation :
To fully use the MATLAB help browser capabilities, it is recommended to build the search index of the SDT html documentation by executing the following command :

builddocsearchdb(fullfile(fileparts(which(

'feplot'

)),

'help'

))

Then, to navigate in the documentation, several methods are possible.
Open the MATLAB documentation with the command doc, click on Structural Dynamics Toolbox in the list of "Supplemental" Software and navigate with the table of content on the left.
Search for html pages with keywords entered in the Search Help location and select the most appropriate result.
Directly access a html page knowing its name with the function

sdtweb

. For instance, to display the documentation of the

feplot

function which is named

feplot

.html, execute the command

sdtweb

feplot

.
Note a MATLAB bug makes links within a page inactive (jumps to head of the page rather than appropriate location). You can open in the webbrowser where the links work using sdtweb('feplot','webbrowser').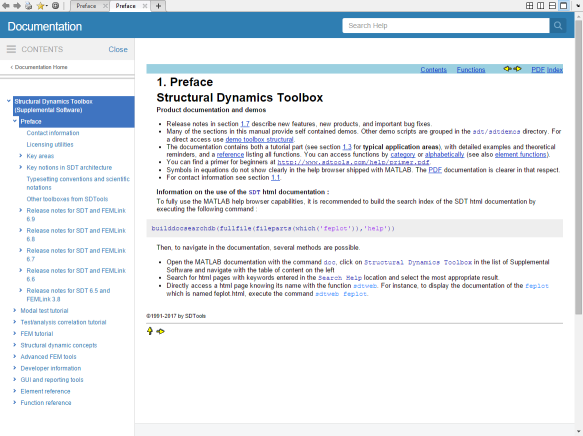 ©1991-2019 by SDTools
---